Aspen Grove - Hickory Espresso
Aspen Grove - Hickory Espresso
Color

Hickory Espresso
Aspen Grove - Hickory Espresso
Color

Hickory Espresso
---
Specifications
Aspen Grove is a collection of 1/2' x 5' x 4' random length engineered hickory with our enhanced hand scraping techniqueand finished with PPG's Ultra Low Gloss Finish. The collection is available in Espresso, Provincial, and Granite.
Carpet Express recommends a floorcovering professional to determine the amount of flooring you should purchase. Computer screen colors may vary from actual material. Please view actual samples to ensure your satisfaction.
100% Engineered Wood
Edge Details
Engineered eased edge & end
Lengths
Random
Finish
Ulta Low Gloss Finish from PPG
Installation
Glue, Staple or Float
On Grade, Above Grade, or Below Grade
Features
nnn
n
Buy from us with confidence knowing that your entire order will be handled right.
n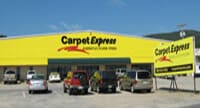 n

The Carpet Express showroom and distribution center is in Dalton GA. Our location enables us to offer prompt delivery and dependable service throughout the United States of America.

n

The shipping department at Carpet Express takes great pride in packing and shipping orders correctly. As a floorcovering dealer who regularly ships to individuals and dealers across the United States, we know the importance of proper packing and using the most dependable truck lines.

n

When placing an order online, the shipping charges will be added. We partner with multiple freight carriers to create a realtime shipping quote system. However, if you have any questions, your Carpet Express sales representative will provide you all the shipping details, including cost, approximate delivery time, and phone numbers for your local shipping terminal. Remember, you are responsible for unloading home deliveries. Many individuals have their installer pick up their order from the local terminal. This also saves a home delivery charge.

n
When shipping outside of Georgia, you will not be charged a sales tax. This will greatly offset shipping charges.
n
nnn
n

Approximate Terminal Delivery Schedule and Rates for Carpet

n
nnn
n
nn
n
nn
n
nn
n
nn
nnn
Delivery Time
n
2-4 days
n
4-6 days
n
5-7 days
n
5-8 days
nnn
Rate (per yard)
n
$.40 - $1.00
n
$.70 - $1.50
n
$1.00 - $2.00
n
$1.25 - $2.25
nnn
n

n
nnn
n
Home deliveries generally run $50-90 more than terminal rates. Please remember, you are responsible for unloading home deliveries.
n
IMPORTANT
n

When you or your installer picks your order up from the shipping terminal, or if you receive a home delivery, visually inspect the packages, rolls, etc. for damage. If damage is seen on your package, write on the shipping bill of lading that the shipment is damaged, and immediately call your Carpet Express sales representative. If damage is not discovered until the goods are opened at home, immediately call the truck line and Carpet Express to report the concealed damage. Also be sure the number of packages and rolls exactly match the bill of lading. If you have any questions, please call Carpet Express, because once you have signed the bill of lading, you are saying that all goods were received, and the packages and rolls were in good shape.

n

Look before you cut! Inspect your carpet and vinyl rolls for visible defects before you cut your flooring for installation. If visible defects can be seen, please call the Carpet Express claims department immediately, before you begin installation.

n

n
nnn
---
Carpet Express has a perfect 5 star rating on TrustPilot!
---