Church Carpet
Church Carpet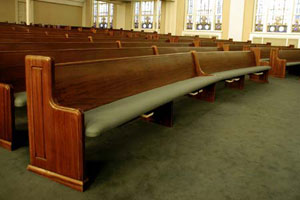 Commercial level loop carpet and vinyl composition tile (VCT) are two of the most popular floor covering options for churches. Commercial level loop carpet and VCT are durable, and they are available in a variety of colors, designs, and price points. For example, Alliance 30/36, which is a commercial cut pile carpet is a popular option. In addition, luxury vinyl tile is a great option to create an upscale look in different areas of a church.
Deciding on the right floor covering option for your church can be a difficult decision because church floors undergo many different uses. The first option to consider is to choose a floor that can withstand high-traffic. The second option to consider is what carpet works best in terms of color and design. The Church Carpet styles shown below have been chosen for their appealing color lines and high-traffic capabilities.
Carpet Express offers many different flooring choices that would look great in any church. If you would like assistance in choosing a carpet, please call us at (800) 922-5582 or send us an email.