Berber Carpet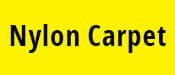 Nylon is a versatile carpet fiber and it provides durability and flexibility in terms of creating different carpet styles. Nylon fiber is one of the most commonly used fibers, and this fiber can be used in a wide range of cut pile and loop pile carpet styles. Carpets made with nylon have a lot of color variability, so you can choose from a number of stylish and colorful carpet options.
No items currently available, please check back periodically, or try a different search.

If you need help locating a product please call us at 800-922-5582.