Spot Cleaning Solution Dyed Carpet
Spot Cleaning Solution Dyed Carpet
Spot Cleaning
Spills and spots must be attended to with immediacy. Spills that are allowed to dry are much more difficult to remove. All spot cleaners used on solution dyed carpet must be approved by the CRI Seal of Approval Program. These products are listed at www.carpet-rug.org
Never rub spots or spills, use a blotting action only.
For specific spot cleaning instructions, please refer to the solution dyed carpet Spot and Spill Removal Guidelines at the end of this document.
For hard to remove spots or stains, a 3 parts to 1 part household bleach may be used on solution dyed carpets allowing a 10 minute dwell followed by a thorough water rinse.
If your solution dyed carpet contained a color fleck, you must test an inconspicuous area or leftover sample before using this technique. Allow 24 hours after testing to view the area to see if any color change resulted from the test. Do not use this technique if color change is present.
Do not use this technique on any other carpets or rugs that are not solution dyed.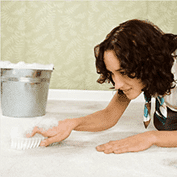 Spot Cleaning Guide
Water Soluble Stains: First, blot thoroughly with a white cotton cloth or paper towel. Next, apply a solution of liquid dish washing detergent to one quart of water. A spray bottle works well. Repeat until the stain is removed, and if the stain still exists then proceed to section H. Stubborn Stains.
Water Soluble Stains with Odor: Same as section A, but treat the stain with white vinegar before using detergent.
Water Soluble Stains with Heavy Colors: Same as section A, but threat the stain with household ammonia before using detergent.
Grease: Blot as much as possible with a white cloth or paper towels. Apply a volatile solvent such as Perchloroethane (dry cleaning fluid), or citrus based solvent to a white cotton cloth: CAUTION: Do not apply the solvent directly to the carpet tile as permanent damage WILL result. Use with rubber gloves and provide adequate ventilation.
Waxes and Gums: Freeze with ice or a commercially available product in a spray can. Shatter with blunt object and vacuum immediately. Repeat as necessary.
Medical Stains: Commercial preparations are available. A 5% Sodium Thiosulphate solution from a photography store may also be used. For stains more than a few hours old, this solution should be heated.
Rust: Most can be removed with a 10% solution of citric acid or use of professional rust remover. More stubborn stains will require professional cleaning as restricted chemicals may be needed.
Stubborn Stains: Use a 25% solution of bleach to water (1 part bleach to 3 parts water) and spray the discolored area. Do not saturate the carpet as the backing can be affected by over wetting. Allow the solution to dwell for 15 minutes and rinse with water to remove any residue. Extract or blot the area to assist in drying. If the discoloration remains, repeat this step. Test an inconspicuous area to determine if the material will resist color change to the bleach (use only on solution dyed carpet).
| | |
| --- | --- |
| STAIN | CLEANING METHOD |
| Alcoholic Beverage | A then H |
| Asphalt | D |
| Beer | A then H |
| Betadine | F |
| Berries | A then H |
| Blood (wet) | A then H |
| Blood (dry) | C then H |
| Butter | A then H |
| Chewing Gum | E |
| Chocolate | C then H |
| Coffee | B then H |
| Cola Drinks | A then H |
| Cosmetics | A then H |
| Crayon Markers | D |
| Excrement | A then H |
| Food Dyes | A then H |
| Furniture Polish | D, A then H |
| Grease (auto) | D |
| Grease (food) | A then H |
| Ink (ball-point) | D |
| Ink (washable) | A then H |
| Lipstick | D |
| Milk | A then H |
| Mustard | A then H |
| Nail Polish | Nail Polish Remover |
| Paint Latex (wet) | A then H |
| Paint Latex (dry) | D |
| Paint (oil) | D |
| Rust | G |
| Tea | A then H |
| Urine | B then H |
| Vomit | B then H |
| Wax | E |
| Wine | C then H |