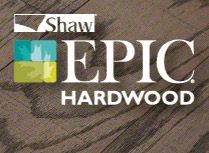 EPIC is an engineered hardwood from Shaw that is a true breakthrough in hardwood manufacturing. This engineered hardwood is stylish and it has many great advantages. EPIC flooring is Eco-friendly, durable, and dimensionally stable. Also, this engineered hardwood uses 50% less newly harvested wood than conventional engineered flooring. In addition, Shaw's EPIC engineered hardwood has a ScufResist Platinum finish.
Epic's name stands for:
E – Environmentally Preferred
P – Peak Performance
I – Installation Advantages
C – Complete Product Offering
Environmentally Preferred

Shaw's EPIC hardwood uses 50% less newly harvested wood than conventional engineered flooring and it is made with EnviroCore. EnviroCore is a high-density core board, which is made from recycled post-industrial wood fiber.
This engineered hardwood is made in the United States with wood harvested from well-managed domestic forests.
Cradle to Cradle – Silver Certified
Certified as an Environmentally Preferred Product
Qualifies for LEED credits
GREENGUARD certified, and it meets the GREENGUARD indoor air quality requirements
Peak Performance

EnviroCore's recycled wood fibers are tightly compressed, which makes the EPIC products harder, denser, and they perform well.
The Janka Hardness test proved that this flooring is harder than solid and engineered flooring products that feature softer core boards.
The ScufResist Platinum finish helps the product resist wear and scuffing very well.
The product's density helps it stay more stable as the seasons change.
Installation Advantages

This product can be installed on any level of a home, including the basement
This product can be installed with any installation method
The longer average board lengths give a premium visual and faster installation
Complete Product Offering

Epic collections have great style, design, and gorgeous colors.
This product is offered in a wide range of finishes, from traditional to rustic, and from smooth to distressed and hand-scraped.
Epic is available in a variety of species and looks
Widths available: 3 1/4″, 5″, and 6 3/8″
We have two EPIC engineered hardwoods available on our website: Colonial Oak 3.25″ and Colonial Oak 5″
Click here to see Colonial Oak 3.25″.
Click here to see Colonial Oak 5″.
Click here to see more Shaw hardwood products.