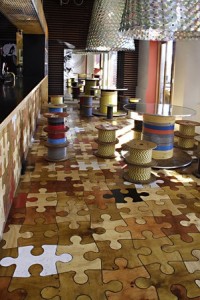 Flooring can now be made in so many different ways, but here is one way that is so unique. Jigsaw puzzle flooring is a growing trend in interior design. Jigsaw puzzles can be made so creatively because each piece is different yet they all fit together to create something beautiful. The same can be said for a floor that is made out of wood or tile that is cut into different puzzle pieces, and then they have to be put together to create the floor. You won't be able to take the puzzle apart and then put it back together, but you will always have a gorgeous and unique floor in your home.
This type of flooring is more of a DIY project than being able to find it in a store. You can buy the hardwood flooring, tile, luxury vinyl tile, or luxury vinyl plank from a store, but then you'll have to cut the floor into puzzle pieces. Just make sure that you keep track of what piece goes with what so you don't create a bunch of pieces that won't fit with each other.
I've been a lot of these types of floors with many different colors mixed into the design. Some people just used one type of wood for the main part of the floor, and then they used one other color of wood for certain sections. However, I've also seen someone use all types of hardwood and colored floor to make the jigsaw puzzle flooring.
Just be creative and design your own jigsaw puzzle floor. Always remember to have fun when designing your home.
Click here to see our hardwood flooring.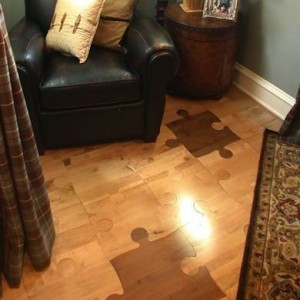 Click here to see our tile flooring.
Click here to see our luxury vinyl tile and luxury vinyl plank flooring.
Click here to see our laminate flooring.
Jigsaw Puzzle Flooring

,