You may already know that our hometown of Dalton, GA is often referred to as the "Carpet Capital of the world."
What you may not know is the incredible leaps and bounds the carpet manufacturers like Mohawk and Shaw have made in recent years to limit their carbon footprint and seek sustainability. As such, flooring manufacturers are now working towards and achieving certifications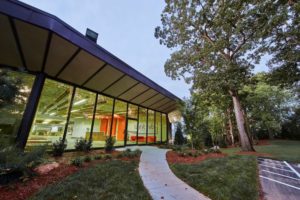 from the International Living Future Institute's Petal Challenge and Mohawk was the first to achieve it! Mohawk Carpet, a leading carpet and flooring manufacturer  (and basically our neighbor) has been at the forefront of the sustainability movement. Located just a hop, skip, and a jump away from the Dalton city center, Mohawk calls this their "Beacon of Sustainability."
Tell us more!

The Light Lab is a 33,000 square foot mid-century modern building located in the hills of Dalton, GA. World Carpet used this building as it's headquarters in the 1960's. It now features stunning 360 degree views of rolling hills, abundant wildlife, and landscape. Currently, the building acts as a showroom space for Mohawk flooring residential products. Approximately one year ago, Mohawk Carpet was honored by the International Living Future Institute (ILFI) with their Petal Certification. Needless to say, this is a HUGE deal! The Light Lab is the very first building in Georgia to be Petal Certified. In addition, this is the first restoration project ever certified in the entire Southeastern United States by the IFLI.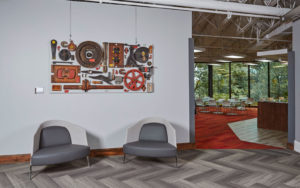 A little bit about the ILFI's Building Challenge- from a Mohawk Press release:
"The ILFI's Living Building Challenge is a building certification program, advocacy tool and philosophy that defines the most advanced measure of sustainability in the built environment possible today. The Challenge is comprised of seven performance categories called Petals: place, water, energy, health & happiness, materials, equity, and beauty. Petal Recognition is given to projects that satisfy the requirements in three categories of the Living Building Challenge, when at least one is water, energy, or materials."
How did they do it?

Mohawk Carpet began collaborating with companies who share their vision for sustainability. Mohawk contacted Toto for plumbing and toiletry needs. Teknion, a well-known office furniture company was brought in to provide modern design and clean lines. And how about those walls? Mohawk had ECOS paints to ensure Low-VOC and Red List free ingredients as per the ILFI Challenge guidelines. Furthermore, they even utilized the creative geniuses from SCAD (Savannah College of Art and Design) to design an interior that was beautiful, functional, and complied with the Petal Challenge standards.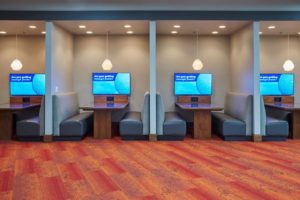 Feeling inspired? Check out some of Mohawk Carpet's commercial flooring that may help you achieve your own ILFI certification! Carpet Express has an incredible selection of CRI Green Label Plus certified commercial products.
Need green carpet for your home? Check out Mohawk's residential carpet.
How about some fantastic Mohawk hardwood flooring?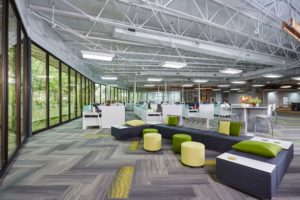 Check out a 360 of the Light Lab here!
Let us know what you think about the Light Lab. Tell us how your business or home would benefit from more 'green' flooring!