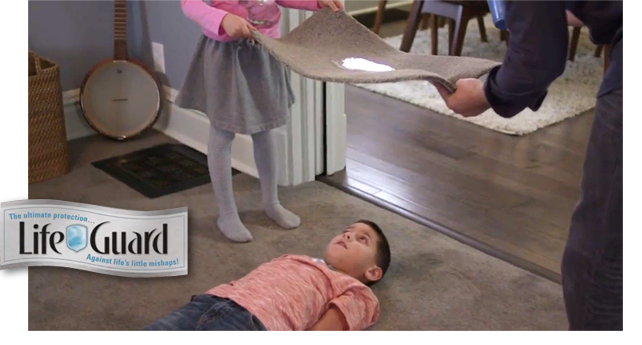 Life Happens is a new residential carpet collection from Shaw that features their new LifeGuard protection system. LifeGuard is a revolutionary protection system that covers the entire product, from face fiber to backing. All of the Lifeguard carpets are treated with Shaw's patented R2X Stain and Soil Resistance protection. In addition, the thermoplastic backing gives the carpet a waterproof barrier that prevents liquids from soaking into the carpet padding and the subfloor.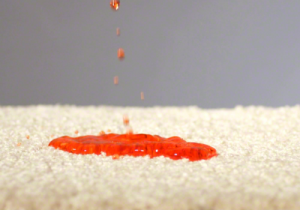 The LifeGuard's patented backing system keeps liquids from seeping into the carpet backing, which allows for an easier cleanup and protection against odor-causing spills and pet accidents. In addition, the R2X Stain and Soil Resistance System gives the carpet an exceptional level of liquid stain resistance because of the liquid will stay on the surface of the carpet, just like the picture shows below. Since the liquid will stay on the top of the carpet and not soak through the backing, you will have more time to discover the spill and clean it up. After the mess has been cleaned up, the carpet will dry quickly.
The Life Happens carpets also combat household odors, and they retain their appearance because of the Anso CrushResister High Performance Nylon. These carpets are resistant to becoming fuzzy, the carpet tufts resist being pulled out, the edges will not ravel easily, and the carpet/backing is less likely to suffer delamination. In addition, the carpet is easy to install because the backing is flexible. This carpet bends well so it is perfect for stairs, and the softness of the carpet backing helps protect painted baseboards and door casings.
The LifeGuard products are designed to be recyclable at the end of their lives. Every part of the carpet is completely recyclable, and they are Cradle to Cradle certified. The video below will explain more about how the carpet is recyclable and Eco-friendly.
Here are the warranties for the carpets in the Life Happens collection.
Lifetime Warranties: Waterproof Backing, Stain & Soil, No Wrinkle, No Edge Ravel, No Delamination, and Tuft Bind.
25 Year Warranties: Texture Retention, Abrasive Wear, and Quality Assurance
There are many beautiful carpets to choose from in this collection, and they feature the newest design and color trends.
Click here to see the Life Happens collection from Shaw.

Here are some great carpet options from this collection:
All Is Well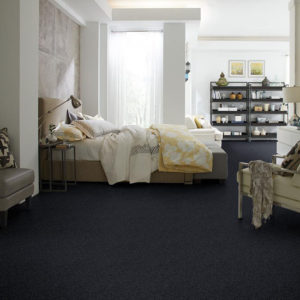 Close Call
Things Happen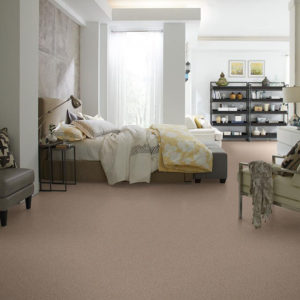 Life Happens - Shaw LifeGuard

,