DID YOU KNOW 90% OF ALL WALL-TO-WALL CARPET CREATED WORLD-WIDE IS MADE WITHIN A 25 MILE RADIUS OF DALTON, GA??
Dalton, Georgia is known as the "Carpet Capital of the World" due to its long history of carpet manufacturing. The city is located in northwest Georgia and has been a major center of the carpet industry since the early 20th century. The industry was born in the late 1800s when settlers in the area, looking for an alternative to the struggling agriculture industry, turned to the manufacture of hand-woven rugs.
Like many other industries, the carpet industry started out as something completely different. Modern carpet manufacturing actually began with hand tufted bedspreads. In the late 1890's, Catherine Evans began hand tufting patterns onto bedspreads as gifts for family and friends. Evans spun her own yarn, which she used in the bedspread to make the patterns. She would clip the stitches to create a chenille appearance. Afterwards, she boiled the bedspread multiple times so the fabric would shrink and hold the yarn in place. Soon people in the community became interested in the bedspreads, and she now had a market for her product. The demand grew large enough that she taught friends and neighbors the technique used to make the tufted patterns.
Carpet Express would like to thank the Bandy Heritage Center at Dalton State College for giving us access to their extensive industry archive. All photography on this page is used by their courtesy.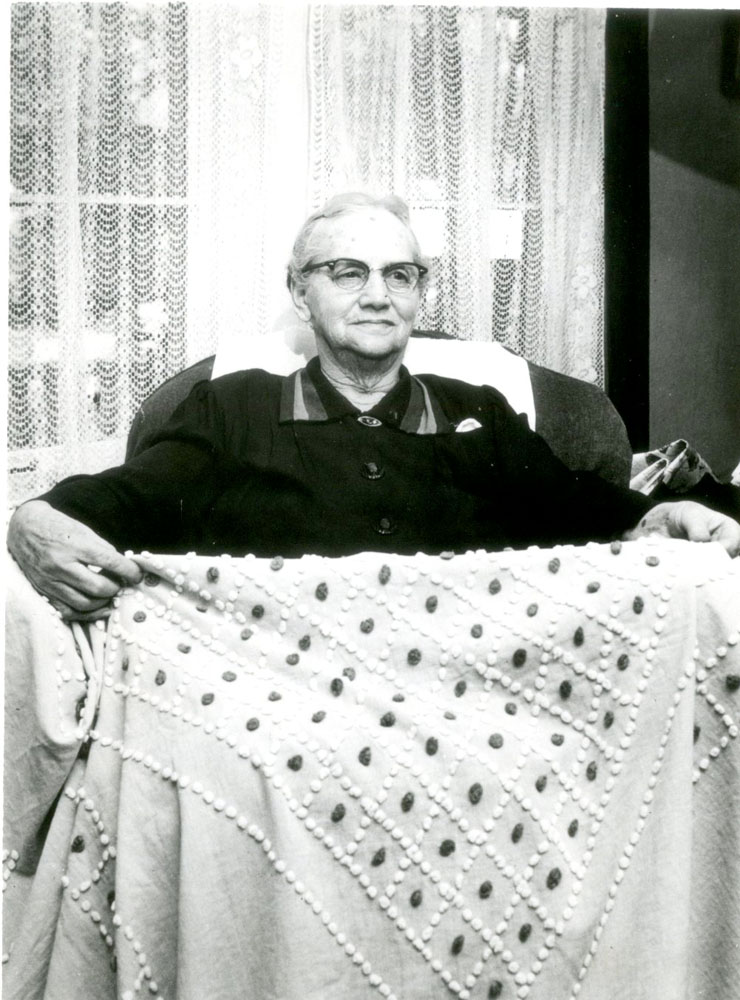 In the early 1900's, Evans began selling the bedspreads to Northern department stores to have her product be in broader markets. Throughout the next few years, the tufting business continued growing and the manufacturing process kept evolving as well.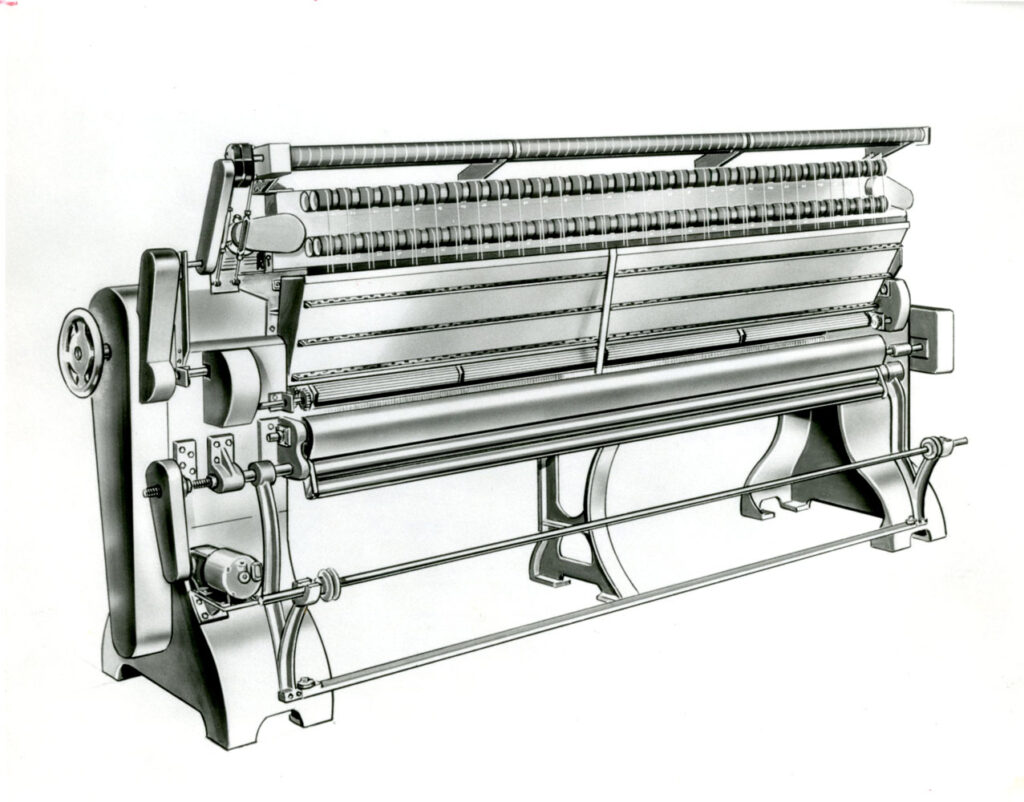 In addition, competition also became a large aspect of the industry, which helped the tufting business continue to thrive. By 1950 many companies were producing room size rugs and broadloom carpeting, and soon carpet and rug production was the main focus of Northwest Georgia's tufted textile industry.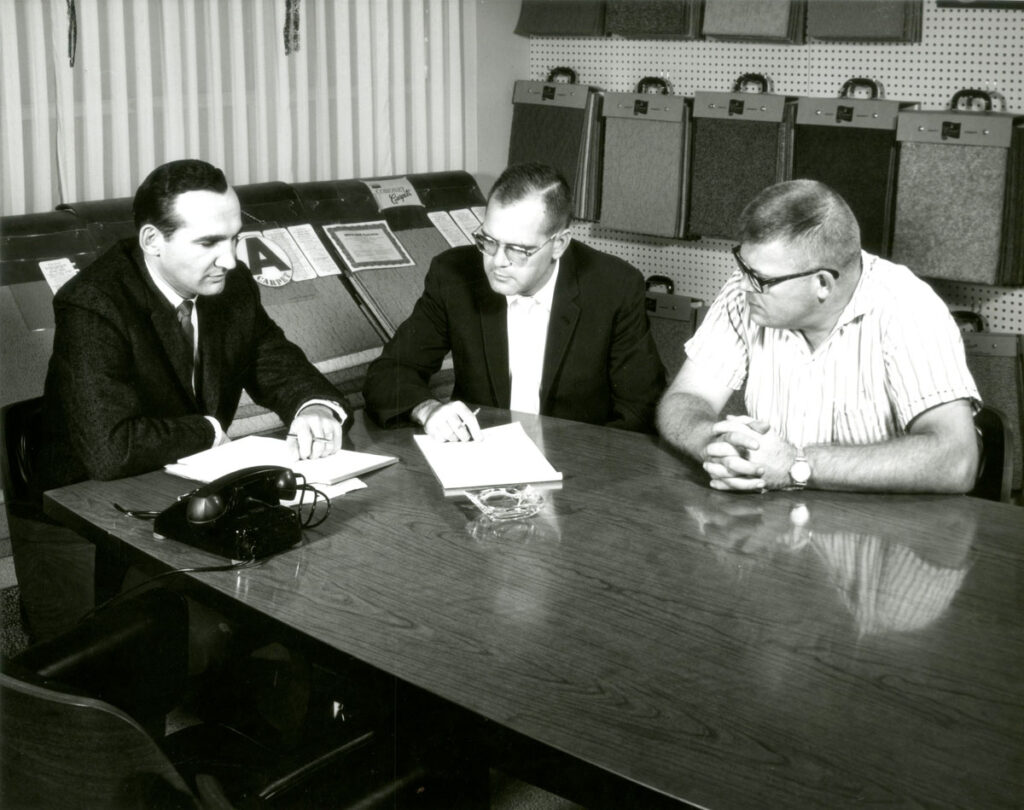 The tufted carpet industry is one of the great manufacturing success stories in American history thanks to the hard work of many local entrepreneurs, who combined their design skills and business philosophies to create quality tufted carpet.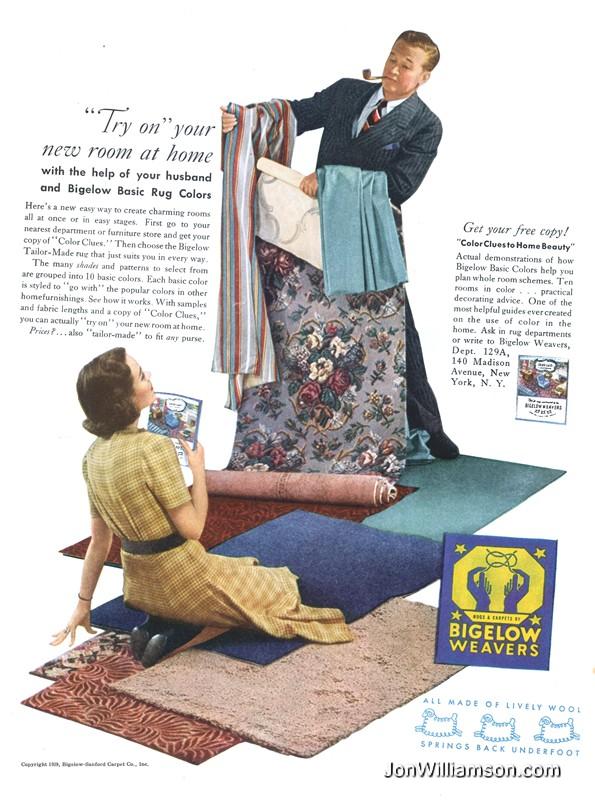 This is a great example of the free enterprise system at work, of how over 150 competitor mills can co-exist, and how management and employers can get along without unions. During the 1960's, there were more millionaires per capita in Dalton, Georgia than anywhere else in the United States. The industry has now consolidated and most of the founders are gone, but their stories of hard work and great success remain.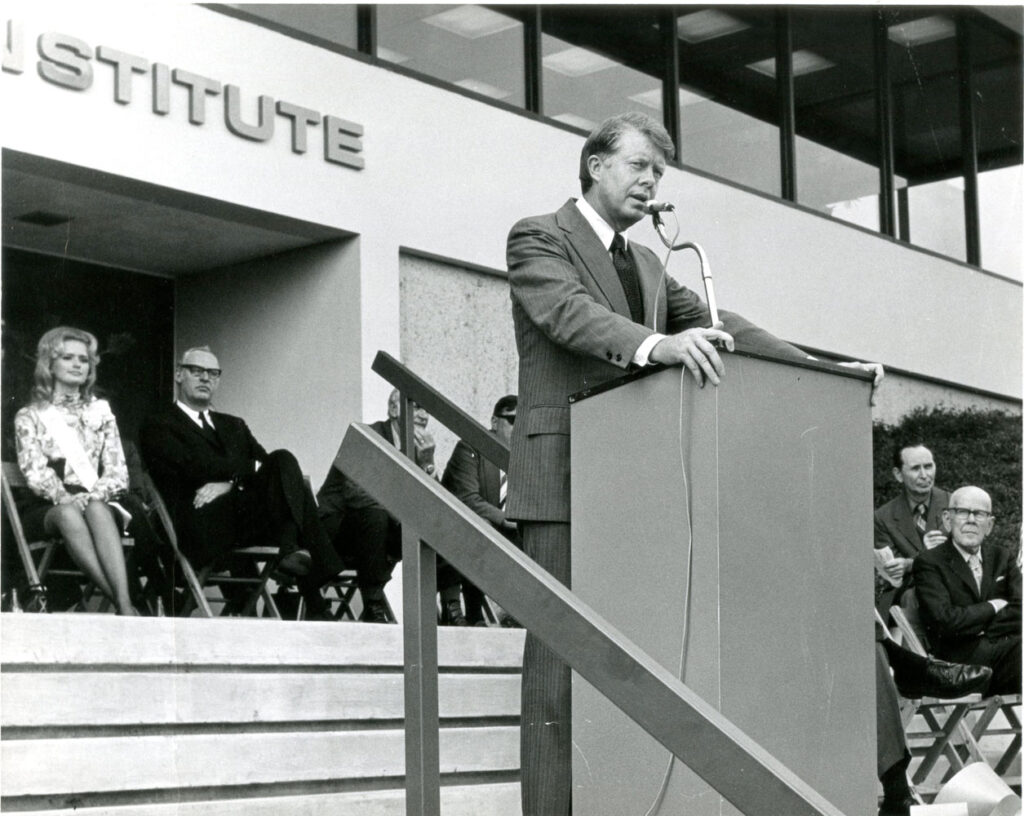 Featured Video
Jack Bandy recalls the early days of the tufted bedspread industry as he addresses the Whitfield Historical Society at Dalton State College on November 17, 2009.
Our top 3 Books about the Carpet Industry
Carpet Capital by Randall L. Patton
Bedspreads to Broadloom by Deaton
Shaw Industries by Randall L. Patton
Featured Links
B.J. BANDY AND BARTOW TEXTILES: CREATING AN INDUSTRY
The tufted textile industry has been a crucial element of Northwest Georgia's economy since the early 1900's. Though typically associated with Dalton, most of the communities of Northwest Georgia participated in and contributed to the development of tufted bedspreads and carpeting. Many of those companies have disappeared, but their contributions should not be forgotten. Bartow Textiles, in Cartersville, was a leading producer of tufted products in the 1940's, yet few current residents probably remember the firm.http://www.kennesaw.edu/research/crhc/articles/bandy.html
HISTORY OF THE TUFTED CARPET INDUSTRY
The industry began in a simple way, around the turn of the century. A young, Dalton woman, Catherine Evans Whitener, recreated a bedspread in a hand-crafted pattern she had seen, for a wedding gift. Copying a quilt pattern, she sewed thick cotton yarns with a running stitch into unbleached muslin, clipped the ends of the yarn so they would fluff out, and finally, washed the spread in hot water to hold the yarns in by shrinking the fabric. Interest grew in yound Catherine's bedspreads, and in 1900, she made the first sale of a spread for $2.50.https://www.carpet-rug.org/documents/publications/016_Tufted_History_Brochure.pdf
DALTON, GEORGIA – FROM WIKIPEDIA
Dalton is often referred to as the "Carpet Capital of the World", home to 150+ carpet plants and approximately 100 carpet outlet stores. The industry employs more than 30,000 people in the Whitfield County area.http://en.wikipedia.org/wiki/Dalton,_Georgia
THE HISTORY OF DALTON, GEORGIA
With the invention of the automobile, a cottage industry arose in the homes along "Peacock Alley", U.S. Highway 41. Running from Copper Harbor, Michigan to Miami, Florida, the route ran on paved state roads. It was designated in 1925 and signed in 1926. Women would sell quilts to drivers along this popular North-South route. From this early origin, the carpet tufting industry grew in Dalton. Today, carpet mills remain major area employers.http://www.daltoncvb.com/about-dalton/
THE HISTORY OF CARPET
The carpet industry in the United States began in 1791 when William Sprague started the first woven carpet mill in Philadelphia. Others opened during the 1800's in New England. Included in that area was Beattie Manufacturing Company in Little Falls, New Jersey, a company that operated until 1979.http://www.carpet-rug.org/about-cri/the-history-of-carpet.cfm
DALTON, GEORGIA
1847 is a pivotal year for the citizens of Cross Plains. In honor of founder Edward Dalton White the city changes the name to Dalton. That same year the Western and Atlantic Railroad is completed in the small town. Its location near the railroad would greatly affect the destiny of this North Georgia town.http://roadsidegeorgia.com/city/dalton.html
A BRIEF HISTORY OF DALTON
Shortly after the start of the 20th century a cottage industry starts in Dalton. Catherine Evans Whitener, using an American tufting technique known as "candlewick embroidery" begins making bedspreads. The number of bedspreads ordered quickly surpasses the quantity she can make and she teaches others the skill of hand-tufting.http://www.cityofdalton-ga.gov/index.asp?SEC=C4E6D9F4-E5BE-423B-9E24-27AA40F54421&Type=B_BASIC
A HISTORY OF THE U.S. CARPET INDUSTRY
Carpet in the United States had three salient characteristics in 1950. Carpets were (1) woven on power looms out of (2) wool in (3) mills located in the Northeastern United States. In just one short decade, each of those critical elements had changed dramatically. By 1960, most carpet in the United States was made on tufting machines from synthetic fibers such as nylon in factories located in the Southeastern United States – and the vast majority of these new mills were located in and around the Appalachian foothills town of Dalton, Georgia.http://eh.net/?s=history+of+carpet+industry
CARPET HISTORY TIMELINE
A timeline of news and events related to the carpet industy.http://www.google.com/search?q=carpet+history+in+dalton+georgia&hl=en&tbs=tl:1
&tbo=u&ei=1jfXSsv6PIqN8AbZ-5nZCA&sa=X&oi=timeline_result&ct=title&resnum=11&ved=0CCcQ5wIwCg
THE INDUSTRY OF DALTON
Dalton, the Carpet Capital of the World, is truly an essential area for the technology that keeps the carpet industry moving ahead. Carpet manufactured in Dalton winds up in homes, office buildings, and even ball fields all around the world. The variety of carpets manufactured here is endless – tufted, commercial, patterned, oriental rugs, bath mats, etc. With 150+ plants and approximately 100 outlet stores, Dalton has any floor covering your heart desires.http://www.northga.net/whitfield/indust.html
DALTON-WHITFIELD COUNTY: DISCOVER HISTORY
As the colonial population spread West, efforts were being made by the United States government to prepare for the white settlers who would soon settle in this area. In 1831, the government entered into a treaty with the Cherokees whereby they would trade land with the Indians. The treaty would eventually turn into a bound Federal Indian reservation in exchange for their homes in Georgia.http://www.whitfieldcountyga.com/hist/history.htm