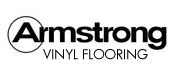 Armstrong vinyl is a great flooring choice for any time of the year, but especially during winter. During winter it is inevitable that mud, snow, water, and leaves will be brought into the house. At least with vinyl flooring, you can easily clean up all of these messes without worrying about stains or the floor being messed up.
Armstrong vinyl is easy to maintain and durable. Also, the vinyl has realistic visuals of wood, tile, or stones. The vinyl will survive the winter months and be beautiful for the rest of the year.
Click here to see our selection of Armstrong vinyl.