30-50% Off Retail Prices Located In Dalton, Georgia
"The Carpet Capital of the World."
Church Carpet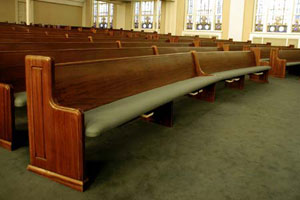 The two most popular floor covering products for churches are commercial level loop carpet and vinyl composition tile (VCT). Both products are very durable and come in a variety of colors, designs, and price points. Commercial cut pile carpet, like Alliance 30/36, as well as luxury vinyl tile, like Duraceramic by Congoleum, are viable solutions for an upscale look in certian areas of the church.
Deciding on a floor covering for your church can be a tough decision. Church floors undergo many different uses, from sermons to banquets, meaning a number of factors need to be considered in making your final decisions. In all circumstances, it is a good idea to choose a floor that's able to withstand high-traffic. Commercial carpet is meant for just that purpose. The Church Carpet styles shown below have been chosen for their appealing color lines and high-traffic capabilities.
Carpet Express offers many different flooring choices that would look great in any church. If you would like assistance in making your decision, feel free to call us at (800) 922-5582, or send us an email.